It is important to properly measure your dog's size before ordering your favorite set. Below you will find the different sizes per product. All collars are adjustable in large and several sizes.
Important: All sizes you read below are the outside sizes of the collars, that means the sizes measured all around. This means if you measure the neck size of your dog that you must not forget to add a MINIMUM finger thickness, otherwise the collar or the harness will be really too tight. Definitely buy the harness a little too big if you have doubts about the size.
Collars: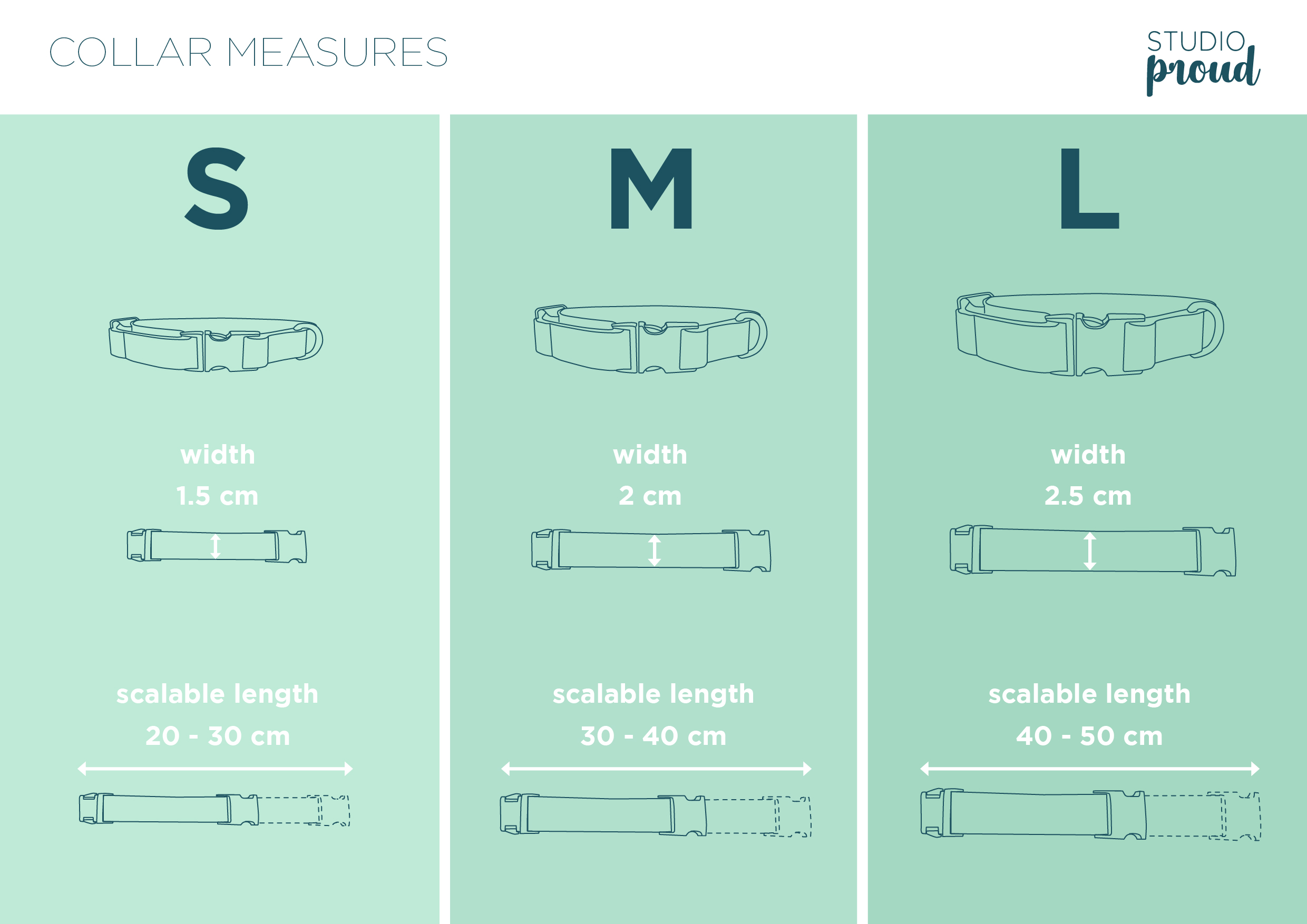 We have now added 2 sizes for a number of bestsellers: XS and XL. So we have the collars in 5 sizes:
Collar
Size
Width
Length
XS
1.5 cm
15-20 (cm)
S
1.5 cm
20 – 30 (cm)
M
2.0 cm
30 – 40 (cm)
L
2.5 cm
40 – 50 (cm)
XL
3.0 cm
50 – 60 (cm)
Exhaust belts :
The length of the straps is the same for all sizes, namely 150 cm. The widths differ, so you can choose the right width for the right collar. For example, if you have chosen size m – 30 to 40 cm in collar, then a leash size M fits best in terms of width, namely 2 cm both.
Dog leash
Size
Width
Length
S
1.5 cm
140 cm
M
2.0 cm
150 cm
L
2.5 cm
150 cm
XL
3.0 cm
150 cm
Harnesses: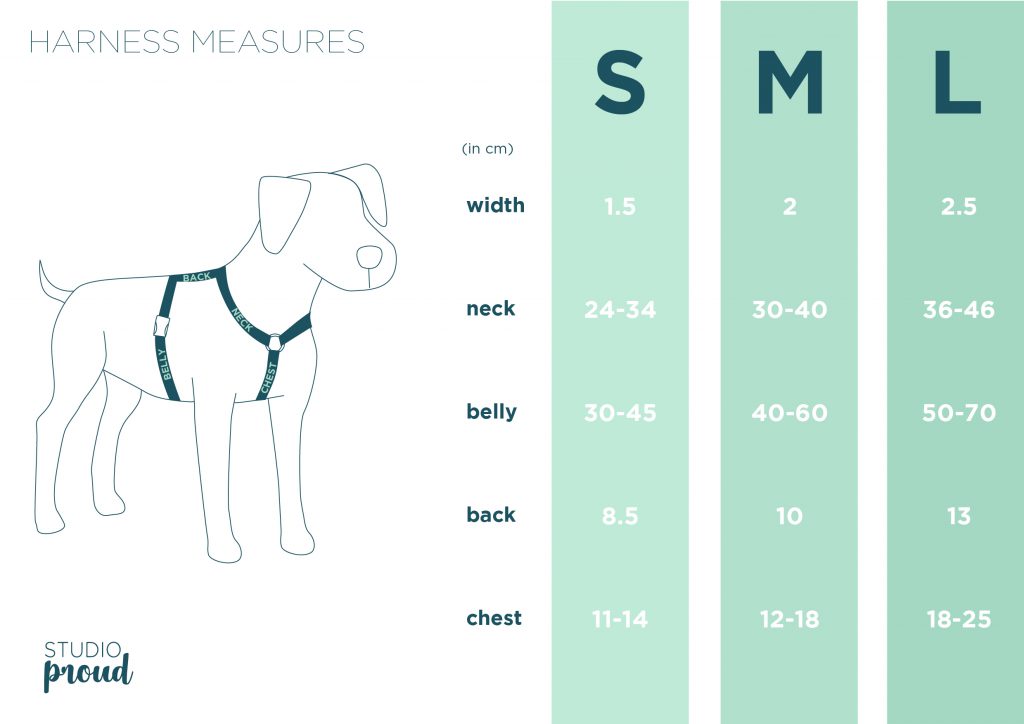 We have the harnesses in 5 sizes. These sizes are not the same as the sizes of the collars. This is because these harnesses have a belt closure and the collar with a clip closure. The collars can therefore be adjusted more than the harnesses. In the picture below you see a buckle with which you can adjust the size of the harnesses. The sizes on the table above are the sizes of the harnesses, not the sizes of your dog. It is easiest to measure the size of your dog slightly behind the front legs towards the back.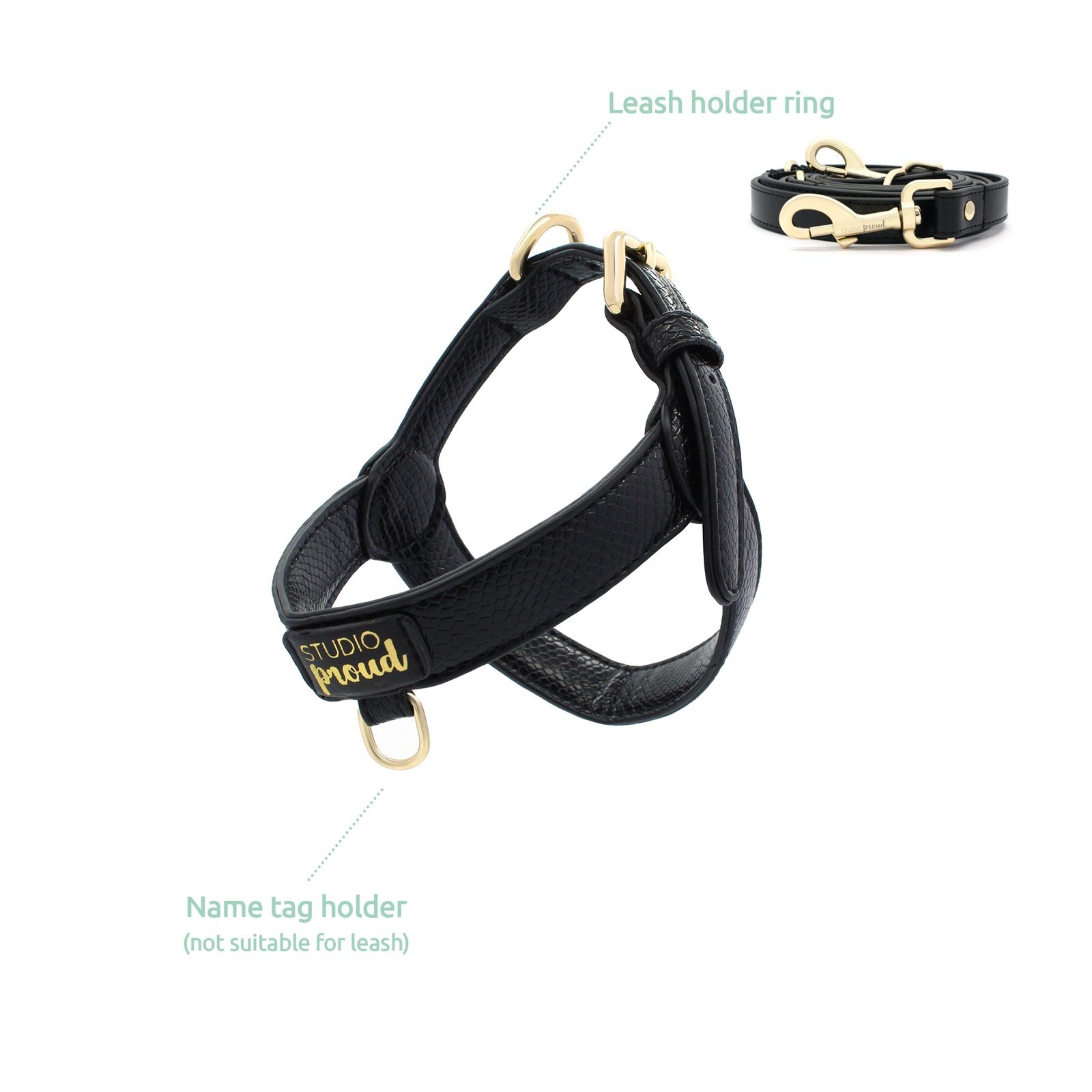 In the photo you can see one of our harnesses. The logo will be worn on the chest of your dog and the ring is for your dog tag (name and address charm). The buckle and ring are worn on the back of your dog. This ring is intended to be used as attachment for the exhaust belt.
Donut basket: